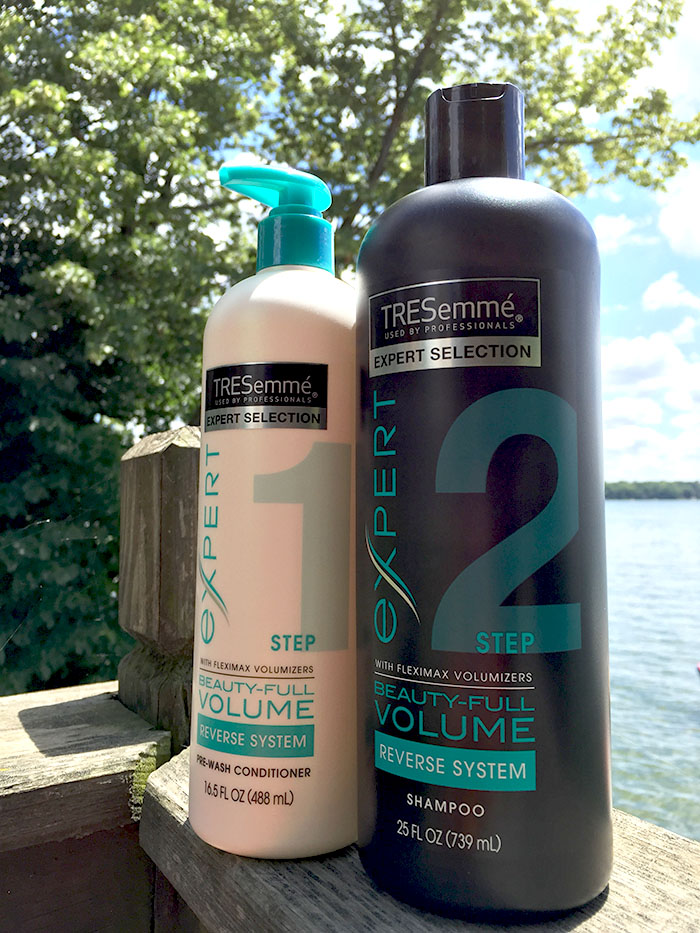 There's a new trend in hair products and it is fantastic. Tresemme has flipped the hair cleanse routine upside down with using the conditioner first and then shampoo. Thanks to Tresemme and Influenster, I was sent a set to try out and the results are amazing. I rarely used conditioner because it made my thin hair flat and it was greasy by the end of the day. The shampoo after conditioner really makes my hair feel smooth yet not weighed down. The final product gave me shiny and silky hair that stays fresh while on the lake all day. I I think this new method is worth trying, check the links below for more information.
The #reverseyourroutine Method
Step 1: Wash hair with Tresemme Beauty-Full Volume Pre wash conditioner to soften the hair. This conditioner is friendly to color treated hair and reinforces the hair's natural protective layer with the fiber polishing technology.
Step 2: Wash hair with Tresemme Beauty-Full Volume Shampoo to cleanse and remove excess weight to the hair. This shampoo is also friendly to color treated hair and leaves hair conditioned and voluminous.
Step 3: Style hair and enjoy the volume of your fresh new routine!
Tresemme has a whole line of products that I have used for a long time. I bet my college girlfriends still cant get my hairspray smell out of their noses! I love that the shampoo and conditioner are very reasonably priced and work well with my dry and colored hair. I will definitely check out the new line of styling products, as I am very impressed with this shampoo and conditioner.
Have you tried this new program? Tell me your thoughts if you have reversed your routine.
*Sponsored post by Tresemme and Influenster. All opinions are my own*