Bundled in Anthony's coat.
Recently we attended our first wedding of the season. It was a gorgeous wedding at the Chapel Hill Carriage House. I would definitely encourage brides in the area to check it out, as it is the perfect outdoor space!
We had a wonderful time at the wedding, but with the unexpected wind-gusts that hit NC, it got me thinking about our wedding and similar cold temperatures. Read on to hear a little bit about our wedding-weather-mishaps and check out my suggestions to beat any temperature. I have linked some outfit essentials for unexpected cold and warm weddings! Comment below and tell me about any wedding conflicts you have experienced.
Anthony and I got married at the BB&T Baseball Park and utilized the outdoor concourse area for the ceremony and dinner. We were married in December so we anticipated colder weather and we were prepared with several industrial heaters. The heaters did their job, but with an unexpected cold front for the wedding weekend, we were hit with temperatures in the low 40's. It was hard for the heaters to keep up and truly warm the dinner space. Luckily I had a great group of family and friends that quickly reacted and switched up the timeline to get people inside sooner than planned. No one except the family knew of the switch and the evening went without a hitch. But in the moment, it was cold and a tiny bit stressful. I remember being overly concerned about the folks bundled around the heaters waiting for our entrance. As I look back now, I realize there was nothing we could have done differently and the guests at our wedding were happy to celebrate us and our marriage and not worried about a brief moment of coldness (at least I hope that's how they felt!)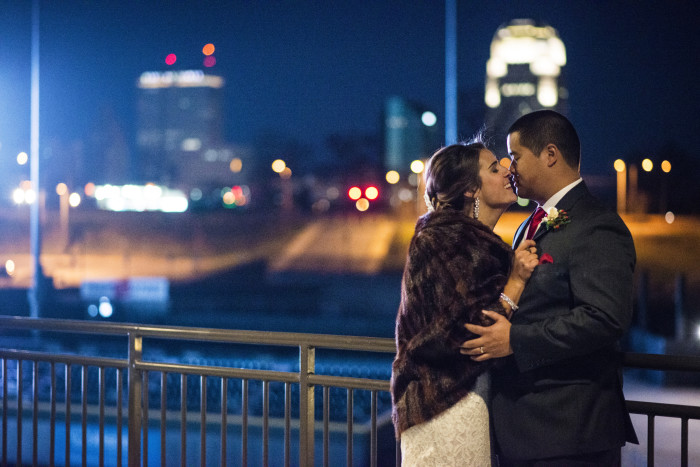 I write all of this to say every wedding will have unexpected occurrences that change the day of plan. We spent almost a year planning every detail of the wedding, from the music and timing to the small table decorations that I am sure no one noticed! The weeks leading up to the wedding I was stressed and worried that the day was not going to turn out as planned. The days leading up to the wedding, I stressed a little less and on the BIG day I tried to forget about all those small details and the timeline we created. Why? because on that day, you are vowing to love your best friend for the rest of your life, and if that is what matters to you, then all the mishaps that happen the day of the wedding, they don't matter. The Pastor at the wedding said it best, "even these "847" mile per hour wind gusts can't take away from the beauty of the ceremony and the meaning of marriage." I think it is important for everyone planning their weddings for this season to remember what it is all about, otherwise you will miss out on the best moments when you and your spouse say I do in front of God and family.
Cold Weather Essentials
You never know if the spring or summer wedding might have a significant change in temperature- be prepared with a light sweater or scarf to wrap around your shoulders, especially if you are attending an indoor wedding. Below are a few of my favorite items to beat a cold breeze during wedding season.

Warm Weather Essentials
Since wedding season is during the hottest months of the year, it is not uncommon to find yourself outside with the sun beating down on you for a 4pm wedding. You should make it a habit to wear sunscreen everyday and I recommend supergoop. I am addicted after a sample in my Birchbox. I haven't worn a hat to a wedding yet, but I have been tempted, especially with mid-day weddings. What do you think, can a guest wear a hat if it is really warm and sunny?