I am so excited to tell you about my new ProPlus 36 VARIDESK that arrived yesterday! Before starting at my current job, I had a DIY and very unstable standing desk for my work laptop. It was functional for my laptop, because I could easily move from standing and sitting by moving the computer, but now that I have a desktop, my DIY fix was not an option.
After doing extensive research, almost 4 months worth, I settled on the ProPlus 36 VARIDESK. I just received the desk and day one, I love it. I'll keep everyone posted if there are any negatives or drawbacks to the desk. I think for now I am going to try standing for 30 mins and sitting for 30 mins. Not only will this give my legs a rest, it will force me to move around at least once every hour. Read more for my initial thoughts. 
Here are my initial thoughts:
1. The package weighs over 50 lbs, so be prepared to ask for help with moving the desk to your office. I recommend having it delivered to its final destination. I sent mine to the house and had to spend extra time transporting it and then carrying it to my office.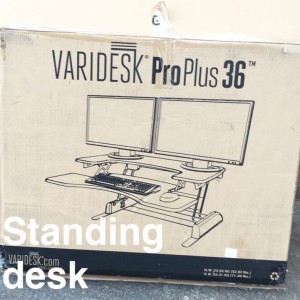 2. I love how the desk has ZERO assembly. It is as simple as taking it out of the box and placing it onto your desk. There is absolutely no screws to deal with and that is worth its weight in gold.
3. The desk is incredibly easy to adjust from sitting to standing. Watch the videos on VARIDESK.com and you can see for yourself. I love how I can keep all the items on the desk and not worry about them falling off when I adjust from standing to sitting.
4. I recommend using a standing mat to relieve some pressure when you are standing. I already had a mat and I suggest this one here.
5. The only drawback is picking out shoes.  I probably should wear more appropriate footwear. With the warmer weather I am excited to break out my heels, but I should bring some flats to switch into while at my desk. I'm not sure the doctors orders are to stand at your desk in HEELS.
All in all I am in love with this product. I hope those feelings stay the same. I am excited to start changing my posture, back pain, and overall health by limiting my sitting time.
I want to hear from you…Do you have a standing desk? How has the standing desk helped you?