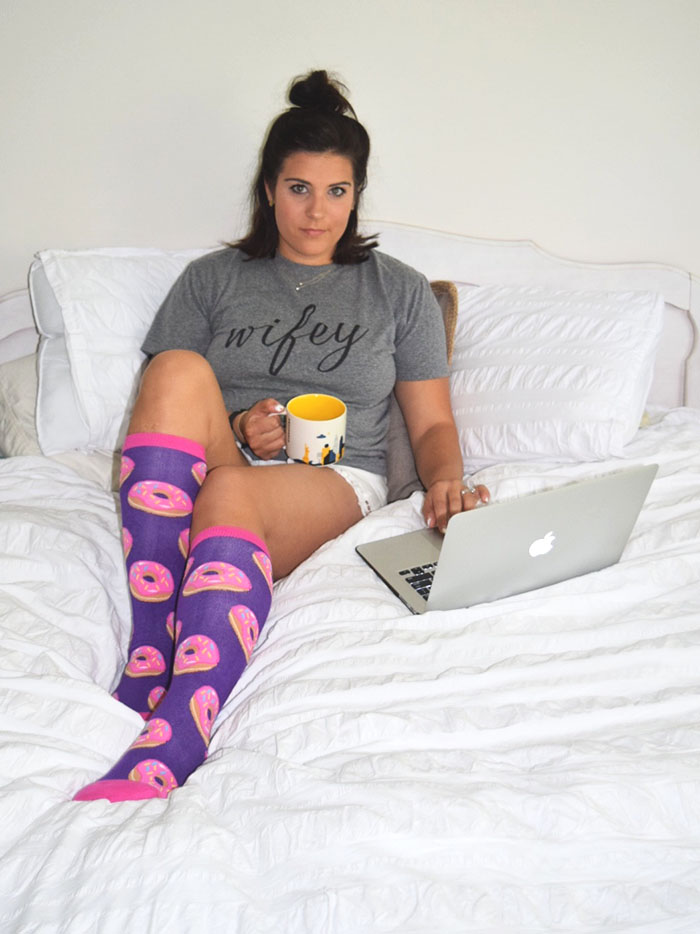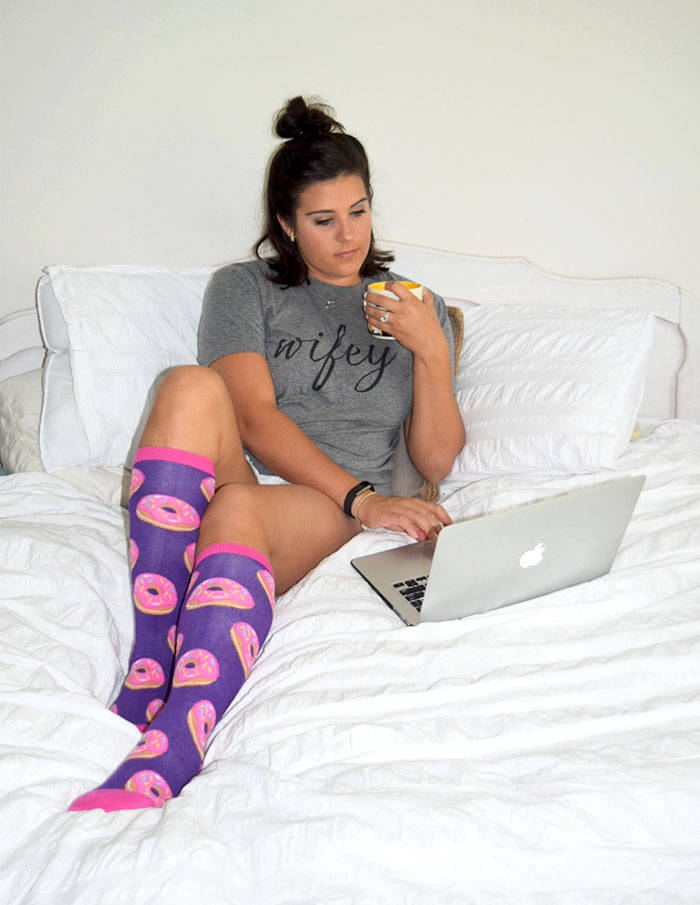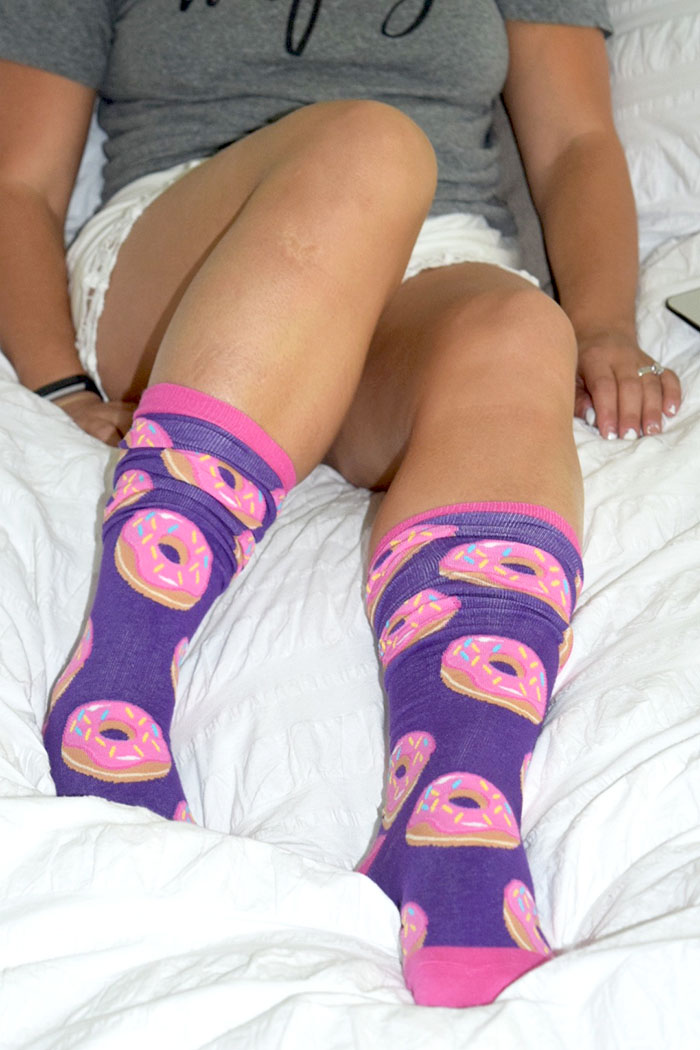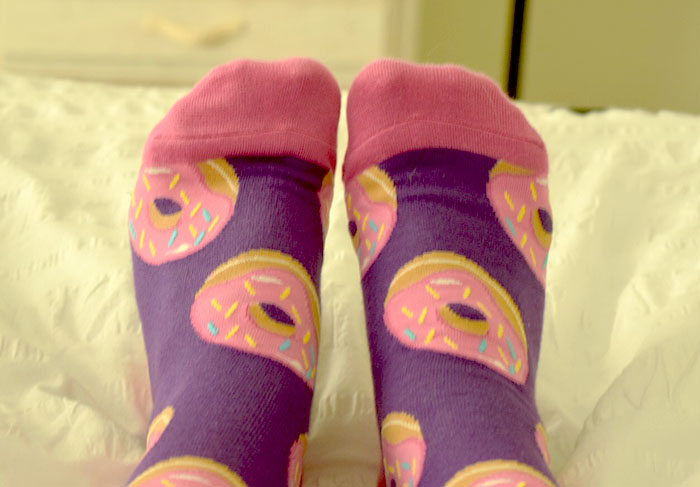 Wifey T // Lace Shorts // Socks
I am jumping on the bandwagon and joining the masses posting about the Nordstrom Anniversary sale. I was ready for fall when our air conditioner broke this week and we are without air in 95 degree temperatures! Now I am officially ready for fall with all the new purchases in my Nordstrom shopping cart. I figured I would share my fall go-to's and encourage you to join the craziness that is the anniversary sale. I have to admit, I first learned of this sale last year after the fact and this is my first time checking it out. My first impressions; these are freaking crazy-good prices for new fall merchandise and I would be silly to not shop. I do have to watch the budget (see the comment above- fixing a broken air conditioner is NOT cheap), but I think I can find some extra pennies for a sale like this one! Read on to learn more about the sale if you are like me and clueless, and check out my wish list for the sale! {Well maybe not a wish list, but now purchased items ;)}
PS. Does anyone else lounge around in knee high socks with doughnuts on them?! Thanks to Chrissy's Socks who sent me these adorable socks, I am comfy and cozy on my day of rest and pampering. I've also enjoyed wearing them for runs and my American Flag socks were perfect for the 4th of July 5k I ran with my family. Check them out and pamper yourself a little, your feet will thank you.
What is the Nordstrom Anniversary Sale?
The Nordstrom Anniversary Sale is an annual sale of new fall merchandise. The sale begins July 14th for early access to card holders and opens to the public on July 22nd. The sale ends and prices go back up on August 8th. The merchandise goes quickly. This is a great time to stock up on things you want for the fall but don't want to pay full price for. Check out my favorite picks below.
What type of stuff is on sale? Is it worth it?
The sale features new fall merchandise on steep discount, like these boots or maybe these boots. After the sale the prices go back to regular price, which is reflected next to the sale price on the website, so you know exactly how much of a deal you are indeed getting. This is a perfect time to pick more expensive fall and winter items that you either want or just simply "need" to add to you wardrobe. I will be searching for the perfect fall bootie, bras/bralettes, flowy tops to transition through summer and fall, and flowy dresses. Check out my picks below!
How do I join the early access?
Early access to the sale opens July 14th and is only for card members. You can become a card member by using this link here. Nordstrom offers both a rewards member credit card, Visa Card, and Debit card options. There is something for everyone and I especially like the debit card since it keeps me in line with money drawing directly from a checking account and limits the temptation of building up a credit card balance.
If I don't want to get early access when does the sale begin?
Enjoy the sale, but always be smart with your finances. If getting a new credit card and debit card is not right for you now, have no fear. The Anniversary sale opens to the public on July 22nd. Be sure to act fast if you add items to your cart. In a matter of 30 minutes, three of the items I was hoping for went out of stock. Also, check back often because it has been rumored that new merchandise is added throughout the sale, so what you see the first day might be new stuff in another week. Be smart, check back frequently, and buy staples. This is a great time to purchase items that you might not buy at full price, but when discounted it is a dream come true!
You might also check out these GREAT SALES going on too!
Loft Sale 40% off all merchandise
J. Crew Major clearance sale 40% off clearance price and 30% off all July styles
Old Navy 40% off for card members and 30% off without card
DRESSES, TOPS, & JEANS

Fall is for neutral colors and oversized tops and dresses so I am stocking up on basic everyday items. I have also been looking for black destroyed jeans and I love the prices of both the jeans I linked above!
SHOES UNDER 100

I am looking for boots, booties, and cozy shoes for the fall. I haven't restocked on boots since my time in NYC and those are in terrible condition with all the snow. I tend to look for neutral colors and I am really loving the grey boot for this fall.
The Intimitates Sale:

I need to stock up on new bras and I am thrilled to see my favorite brand Natori have my favorite bra on sale! I am also eyeing several bralettes for fall and winter to wear under flowy tops and sweaters.
BEAUTY ACCESSORIES
These types of sales encourage me to try the high-end products I won't spend money on at regular price. I am really excited about the beauty blender because I am using a look alike now and can't wait to try the real thing that everyone brags about. I have also heard great things about the sigma mat and I hope it gives me the encouragement I need to clean my brushes more often!
I hope you have some shopping inspiration from all the products I have listed. Tell me below your top picks for the #nsale and HAPPY SHOPPING!