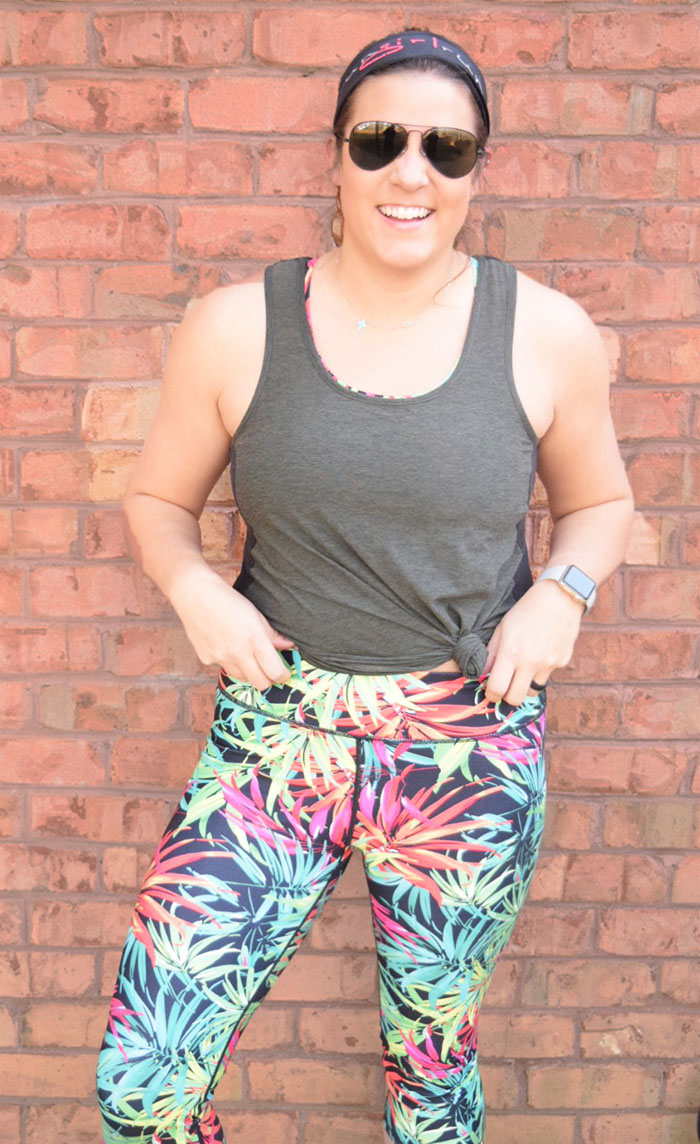 With the spring temperatures in NC, I was feeling these new jungle print leggings I ordered from Fabletics. This was my first Fabletics purchase and they were a steal at $10/outfit with the new sign-up price. I think the quality is great, but I will keep you all informed on how the fabric wears during runs and sweat-sessions.
Leggings: Fabletics // Shoes: Nike // Top: Target // Ring: Qalo // Yoga Mat: Aurorea

The Annual Race:
Since 2015, a group of my college besties and I travel to a big race every spring. This year we are running the Raleigh Rock 'n' Roll 1/2 Marathon on April 2nd. This will be the second year in a row that I have somehow made the strange decision to run a race on my birthday! As a group, this will be our first 1/2 marathon and we are excited to push ourselves during the training and on race day. This will be my 7th – 1/2, but unfortunately, I have a feeling it will be my slowest! I have been running like a turtle lately and it is taking everything to get back into shape and bring down my pace. In order to get to April 2nd without injury and to be prepared to run under 2 hours, I created a training plan for us all to complete. This training plan is a compilation of programs in the running world and my own plans I have created over the years. Over the next 12 weeks, I am going to share the previous week's recap and the upcoming training plan. If you want to see the full training plan sign up here to download!
Week 1 // Training Plan Recap:
Running: I learned I am incredibly out of shape! Hitting the pace I set in the plan was tough! With all that said, I feel very motivated to get to the gym and bring that pace down. I got to all the runs last week but didn't quite hit the pace for each mile. I also had to walk and rest a lot more than I was hoping for.
Crosstraining for the week included: Kickboxing and Full Body Bootcamp
The Week Ahead // Week 2
Running: I am not looking forward to the speedwork this week. Fartleks, if you are unaware, are sudden bursts of speed throughout your run. Since I feel like I have no speed, this will definitely push me. I am also scared for the 5 mile run, it has been way too long since I have run more than 4!
Week 2 Goals: I plan to stretch after each run but I will attempt to stretch every day. My hips and hamstrings are super tight and if I don't tackle this issue now, I am risking a bigger issue of injury later on. My go to stretches this week will include:
pigeon pose– a great hip opener (there will be lots of this pose over the 12 weeks- it sucks but makes my hips so much happier)
runners lunge– helps stretch the back of the legs and hits the hips and your backside
twisted lunge– hits the lower back and essentially every muscle in the legs