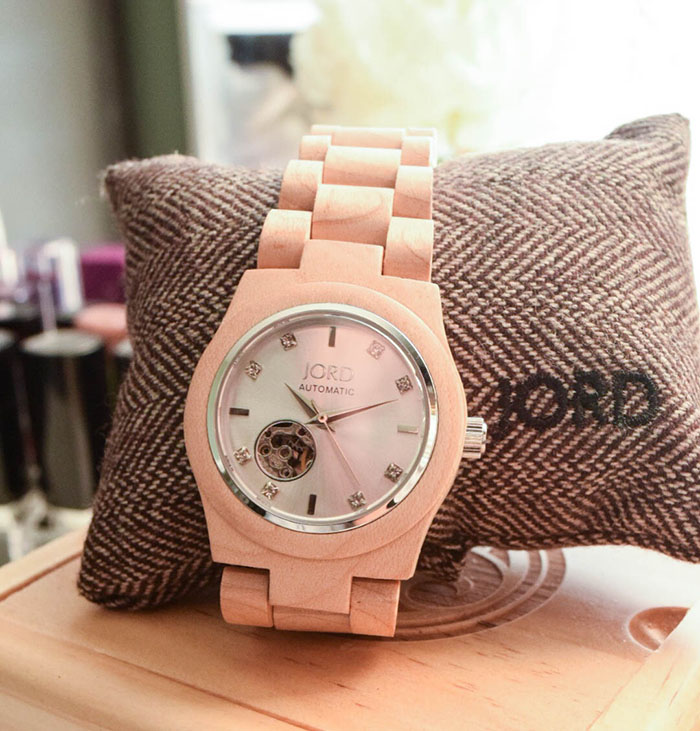 You might have seen these stylish and unique watches popping up all over your social feeds and I can now say there is definitely a reason why. These all-wood-watches made by Jord Wood Watches, are the perfect touch to any arm party. Jord was kind enough to send me one of their Cora Series watches with a maple wood and silver finish. I love the Swarovski crystals as a finishing touch!
Details I love about this company:
Sustainability, efficiency, and modern are all phrases in their mission statement. Emphasis on the sustainability. This small business located in St. Louis is dedicated to using the highest quality of woods and materials from around the world!
The watches are automatic charged kinetically. To me this is a HUGE step up from my cheap watches that either die or break within 6 months. I love the efficiency of charging my watch by just wearing it and moving!
Did I mention Swarovski crystals? Not all watches are adorned with jewels, but each watch has a uniqueness to it that will make your timepiece special to just you.
Jord is sharing the love with one lucky reader with a JORD Exclusive Giveaway. Entering the giveaway here! You can check out all their styles by following Jord Watches on Instagram or their website here.