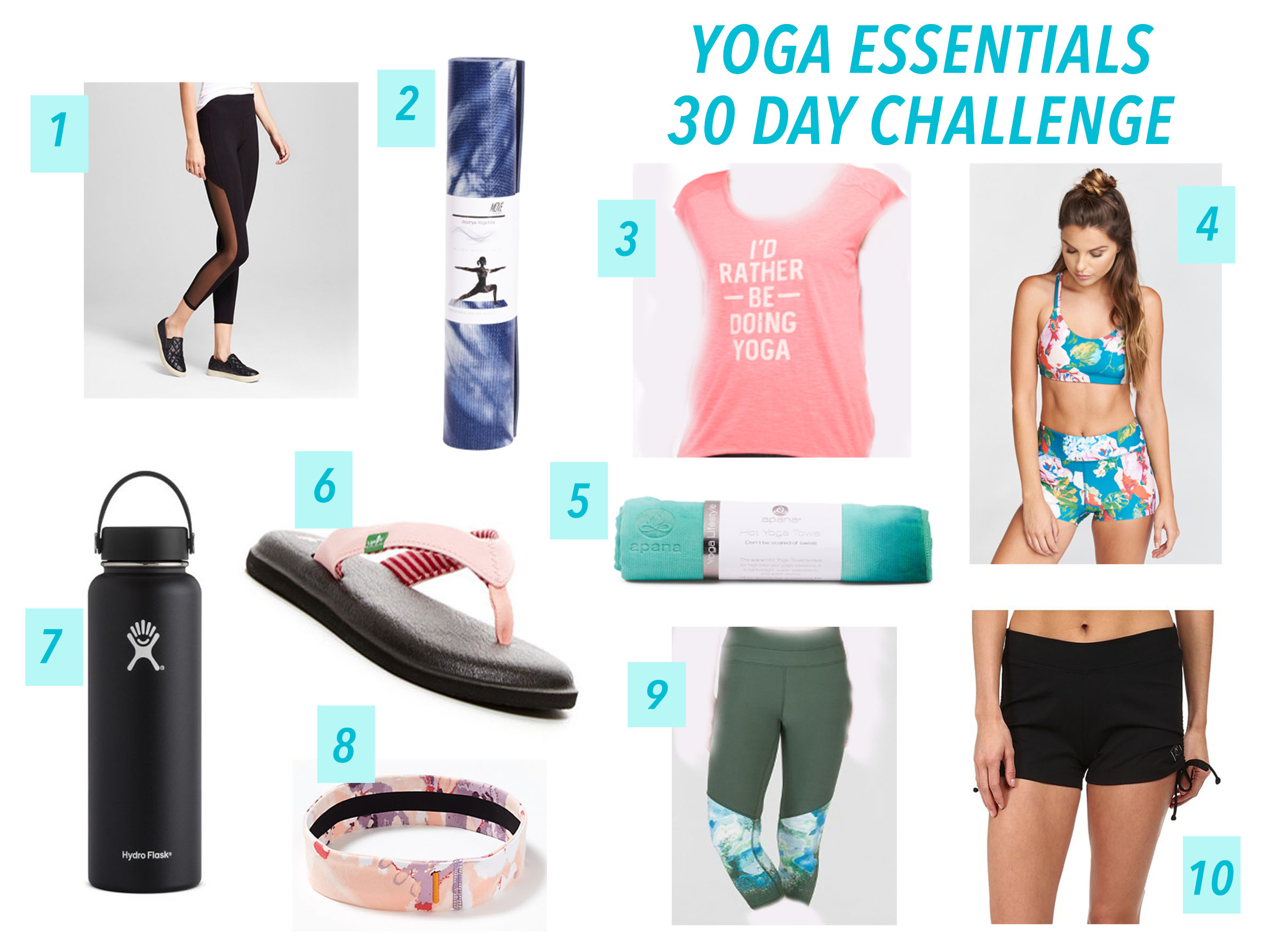 If you have been reading along from the beginning, you know that I am really good at planning an exercise goal, but I am terrible with the follow through. Part of this is my short attention span and my desire to always try something new. I am good at jumping in and trying the newest workout craze, but since I do that often, my workout routine doesn't stick. However, with the start of my new business, I understand the benefits of consistency and routine. Checking off all the tasks on my daily to-do list takes preparation, and the more routines I can establish, the more my day becomes second nature, and it is easier to accomplish all that needs to get done.
Since I want to establish more routines, especially a workout routine, I am challenging myself with 30 days of yoga. I have been practicing yoga for over 8 years now and have taken all different types of yoga classes. When I was training for big races, I was pretty consistent with my yoga practice, because it was crucial to stretch out and heal my body after the long runs. Lately, I haven't been too consistent and my mind and body are screaming for a change.
For the next 30 days, I am going to dedicate at least an hour every day to slowing down and practicing yoga. To truly reap the benefits, I will mostly take Bikram yoga classes, but due to travel and a busy workload over the next month, I will settle for at home yoga during the days I can't make it to class. I will catalog my thoughts on the month-long yoga session, as I am curious how my body will change and react to all the yoga, especially from the Bikram classes. I love how the hot yoga class, that is 105 degrees with 40% humidity, challenges both your mind and body. I always leave the class refreshed and recharged. There is something about sweating your brains out that makes all your worries melt away.
I am writing this right before the second yoga session of the challenge. I have to admit, I am excited about the 30 days ahead and I also can't help myself from picking up a few of these essentials I have shared below. If you check out only one item- definitely check out the Hydroflask. I was recently introduced to this water bottle and it is a lifesaver in the Bikram class. After the class, the bottle is hot to the touch but ice cold water inside!
YOGA ESSENTIALS

1. Target Leggings: The see-through panel on the side is my favorite. It makes your yoga style a little more spunky!
2. Yoga Mat/TJ Maxx: I personally don't think there is a yoga mat that one can purchase to be better at yoga. Instead, I go for the design. I want to look down at something calming during a long downward dog.
3. I'd Rather Be Doing Yoga Tee/TJ Maxx: This is my mantra throughout most of the day. I love this tee from Tj Maxx!
4. Athenia Yoga/ MUMU– Is this not the cutest yoga outfit! It is perfect for hot yoga, where less is more, and I love the colors.
5. Yoga Towel/TJ MAXX: It makes sense that a hot yoga class is sweaty. But it is really-really sweaty and you will be slipping and sliding without one of these yoga towels! It is a must for Bikram.
6. Sanuk Flip Flops/Nordstrom Rack: The comfiest spot for me is the yoga mat and with these shoes, I can wear the mat out of the studio!
7. Hydroflask/ Nordstrom: This water bottle is vital for a hot yoga class. I have left ice water in there for over 24 hours and I woke up with ice-cold water. All other water bottles have overheated during a hot yoga class, but this one keeps the water refreshing!
8. Headband/LUCY: Sweat in your eyes is the worst. Keep your flow cool with this moisture-wicking headband.
9. Target Leggings: I love the colors on these leggings- simple and earthy!
10. Short-shorts/Zappos: Leggings are cute, but short-shorts will make Bikram yoga much more enjoyable. In this class- less is way more!
Will you join me? How do you recharge and start a new goal? I'd love to hear your summer goals in the comments below!