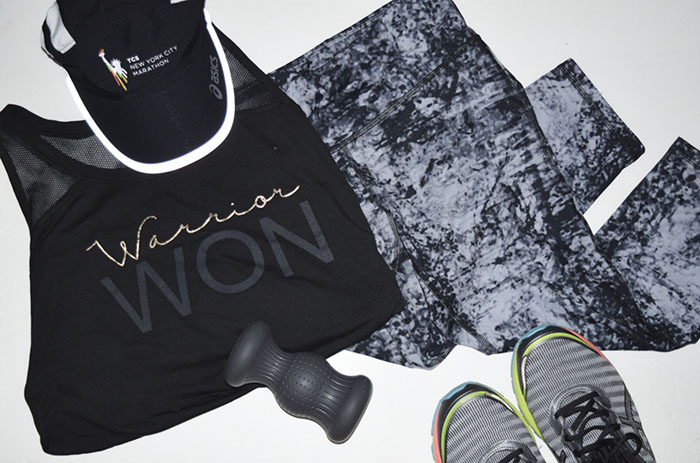 Top: Target//Leggings: Target//Shoes: Asics//BEST ROLLER EVER: R3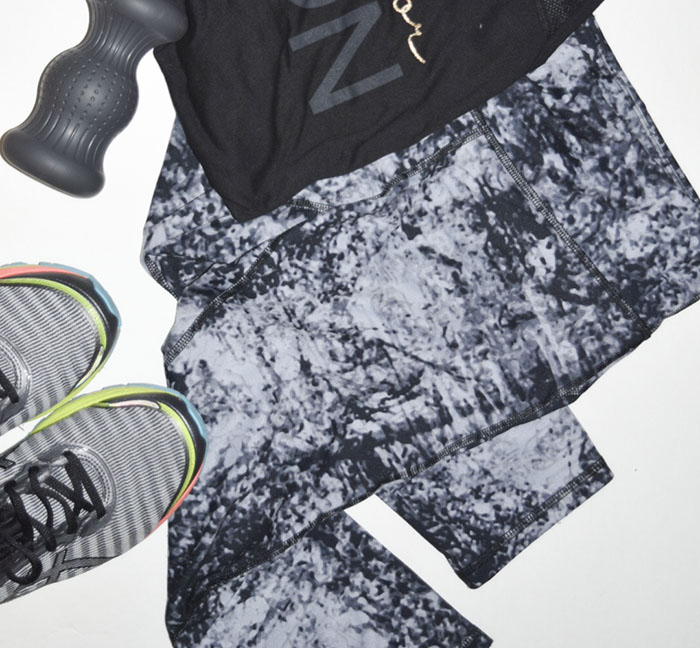 Training this past week did not go as planned. My body was screaming a very important message to me: I am out of shape, especially running shape. I have been running since I was 13 years old and it used to be second nature. Now, I feel like this sport is disagreeing with my body each and every footstep hitting the ground. I can feel my body wanting to shift into another gear as if in autopilot, but then I can hear it say- "Wait you want me to speed up, uh not happening!".
I intentionally used my NYC Marathon hat as a prop to remind myself of where I was just over a year ago. I was running the NYC marathon! Sure I got terrible cramps and had to visit the medical tent and the end time was way off my goal, but I was running the NYC Marathon! After the race, like many runners do, I took a much-deserved break to recover from the marathon. The planned short break turned into a few months, and before I knew it I had taken off a whole year from seriously running. This was great for my stress levels, as life was picking up pace, but it did nothing to help me stay in shape and keep up a solid running pace. Because I am a creature of habit, I really hate to see how I have struggled with this training plan for the upcoming race. I figured I am not alone in this struggle and I thought I would share 3 steps that I have found helpful in the past.
For week 3 of the 1/2 marathon training, I am going to evaluate my goals and my reaction to failure. I know the facts: I am out of shape, I have lost a ton of speed, and I am no longer young and free to not stretch. During week 3 I am going to follow the steps I have shared below, and slowly get back on track with my running and fitness
3 Steps to Getting Your Fitness Goals Back on Track
Be a Warrior and Fight: I will be completely honest and say I bought this top because it was on sale, had a cute back, and was black and gold. I wasn't sure what Warrior Won meant when I picked this up at Target. My husband spotted me wearing it, and had the same confused reaction and wanted to know what this phrase meant. My first obvious thought was – this tank is a play on the words warrior one pose in yoga. But as I thought about the play on words and the hidden message, I determined this top could mean much more. Warrior One. This might mean taking on our health is a constant battle and to win, it requires toughness and strength that are common of a warrior. So I am pledging to be a warrior and fight to get faster and stronger. I will fight by showing up to the gym and making every workout count. I will fight by making healthy food choices, and I will definitely fight by sticking to a good sleep schedule. Let's be honest, warriors need their sleep, and this warrior needs a few extra hours!
Be Kind and Slow to Judge: This sounds more like marital advice, but I think it works for getting back into a training plan. Don't be so hard on yourself when you are working so hard to improve yourself. Let bad gym days and poor food choices go. Focusing on the failures will only lead to more bad choices. Instead, celebrate the little victories each week. My friends and I started a shared iphoto folder where we post photos of inspiration and exciting moments in our weekly training. This way we see what everyone is up to and motivate one another throughout the training plan.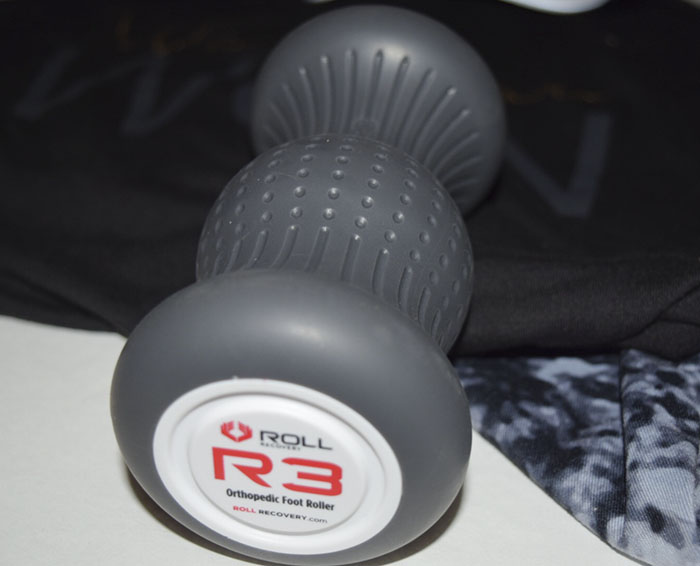 Be Gentle to Your Body: I have mentioned before that training matters, but stretching and rolling out your muscles matter even more! This little guy, the R3 Roll Recovery, is a beastly mean device, that makes all my aches and pains disappear. My hips are WEAK and completely lopsided, and because of this, I land on the outside of my feet, pulling all sorts of muscles and tendons that become very angry with me in the foot and calf region. This roller is a tremendous help in breaking up the fascia and helping my muscles recover faster. The roller is classified as a foot roller, but the small wedges are perfect for getting into the calf, hips, butt and IT band. I pretty much roll out my entire leg with this one little roller. Talk about a versatile and perfect travel size option! Getting out of shape took no effort at all, but getting back on track is most likely going to bring some aches and it is important to prioritize stretching and rolling out your muscles.
Week 2 // Training Recap: 
Bleh. That is the word for week 2 training. I am going to take my own advice and let it go and move forward for this week.
Week 3 // The Week Ahead: 

This week's goals are to get after the runs and follow the training plan. I want to be as close to the designated running pace as possible. The speed work and long run will be challenging, but I hope to run for the duration and only take breaks if needed.
I hope you find the steps to getting back on track helpful. I know we are approaching the time when the new year resolutions start to fall off. That is perfectly fine! By showing love and kindness to yourself and your failures, getting back at it and starting anew will be easier than ever!